Windstar Breeze Caribbean cruise NOV 2017 video series
(SEE VIDEOS BELOW)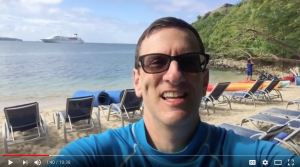 In late November 2017, Henry Tenby had the pleasure of going on the Windstar Breeze Caribbean cruise that originated and ended in Barbados. This was our third Windstar cruise and we loved it. The service, staff, food, amenities and everything were just fabulous. It was a wonderful holiday for us and we will look forward to joining another Windstar cruise in the future.
On this particular cruise, it was the first time we were on one of Windstar's non-sailing powered ships. We were initially curious if it would be up to the same level as Windstar's sailing ships, and much to our pleasant surprise, all our expectations were met and exceeded by the Windstar Breeze and her wonderful crew.
Our 7-day itinerary was Barbados – St. Vincent – Gaudeloupe – Montserrat – St. Lucia – Pidgeon Island ( St. Lucia) – Grenada – Barbados. We enjoyed each destination immensely and went to the closest beach to the cruise dock at each island. I must say that we were thoroughly impressed and relaxed throughout the whole cruise.
We found the large suites on the ship to be very impressive and relaxing. Actually, all the rooms on the Breeze are "suites" and are larger than average sized cruise ship rooms that you find on standard cruise ships. The upper sun decks were spacious with plenty of chairs and loungers for everyone, and the second to top deck offered shade to those who wanted it. So it was the perfect arrangement for everyone. We just loved the ship. It was such an enjoyment to be on the Windstar Breeze, we look forward to going on her or one of her Windstar sister ships soon. We have to work hard and save to make it happen, but it so well worth it!
I hope you like the 9 videos I produced, which start with a tour of a suite.