The following online and mobile businesses have been created by Henry Tenby.

On November 1, 2016, Vancouver-based JetFlix TV launched as the world's first aviation streaming service, and now offers over 1000 streaming aviation videos for aviation fans, accessible via a variety of subscription plans. We offer our content via our web platform as well as via our iOS and Android apps so users can stream or download their favourite classic aviation shows to their favourite devices.
According to JetFlix.TV founder Henry Tenby, "our aviation content is either specially curated or exclusively created in house." Airport videos, airline profiles, aviation fan trips, and historical films from aviation's golden age all come together in the growing JetFlix TV archive to offer global aviation fans a one-stop destination in the palm of their hand to "learn, be entertained, and become passionate about aviation" explained Tenby.
Stock Photo Buy And Sell is a stock photo sales platform where stock photographers can upload and sell their stock image photos. The business features a web based platform as well as Android and iOS apps that facilitate the uploading, selling and purchasing of beautiful royalty-free stock photos taken by the world's best freelance photographers.

AircraftDisplayModels is a photo gallery and networking site where collectors of professional aviation display models can share photos of the models in their collection and meet up with other collectors on an international level. Contact me to discuss the sale of your aircraft display model collection. We are cash buyers for vintage aircraft display models and travel agency models, collections large and small.

AirlineFan is an aviation photo gallery where photographers upload their great aircraft photos to share with online viewers, and the images are also offered for sale on a revenue share basis. The site now features over 50,000 fabulous aircraft photos from around the world. Contact me to discuss listing your aviation images for sale on this specialized aviation website.
AirlineSlides.com is a specialized online auction website for 35mm slides of aircraft. This is my founding business, launched in 1999, and today hosts 60,000 listings per month for an international clientele of aircraft slide collectors. Contact me if you have an aircraft slide collection you would like to sell, as I am a cash buyer of vintage slide collections.
Altitude Inflight Magazine app (iOS & Android) features the latest airline travel magazines & travel ideas brought to you by leading international airlines. Download the app for free and start planning your next holiday!
iOS download
Android download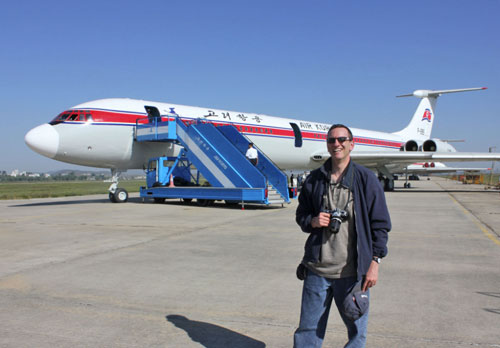 Travelling the world to film and document classic airliners has been my passion since my first flight abroad as a young adult in 1984.
I've been to Beirut, Cyprus, North Korea, Inuvik, Ushuaia and many places in between in pursuit of my passion. To date, I have filmed and produced over 60 aviation DVDs, and have produced some 100 aviation films which stream at JetFlix TV. Back in 2012 we worked on a collaborative project with Air Canada digitizing their historic film archives, which resulted in seven DVDs being released charting that company's impressive historic record.