Dr. Lionel Tenby 2014 Retirement from practice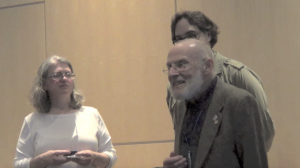 My father, Dr. Lionel Tenby, retired from over 50 years of family practice in Richmond. BC, Canada in the Spring of 2014. My father made many friends and helped many patients in the community during his years of practice. He very much enjoyed his work as a medical doctor over the decades. I would like to share two videos below, both filmed by me (Henry Tenby … Dr. Tenby's son) in 2014 to mark my father's retirement.
The first video was filmed on March 1, 2014, for a special retirement lunch that was held at his office honour his career, and his staff and patients over the years.
The second video is a recording of a special awards ceremony held at RGH Richmond General Hospital in the Spring of 2014 to honour my father's 50 years of service at the hospital.