Tenby Family Film in Colour London 1939 – Lionel and Stephen, Fanny and Henry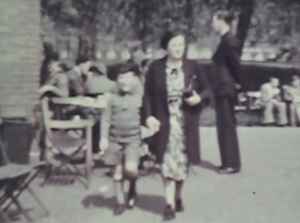 This amazing colour kodachrome film is a family treasure and was shot in London circa 1939 by Uncle Sydney.
It opens with toddler Lionel Tenby (my father … born 1932) enjoying a drink and bite to eat in a London park. Followed by feeding of ducks in a pond. This could be Regents Park or Hyde Park.
The second segment is a black and white film that features more of (my father) Lionel and his mother Fanny (my grandmother) and we are introduced to infant Stephen Tenby (my Uncle .. born 1937).
Thus, this portion of film might date from 1937 or 1938. It is a real gem to see my Dad and Uncle's father Dr. Henry Tenby in his car towards the end of the film. Just fabulous! (This film was uploaded by Henry Tenby, son of Lionel Tenby, and the film is in the possession of Stephen Tenby, who had it digitized).