Carnival Vista cruise video report (Miami – Grand Turk – La Romana – Aruba – Miami)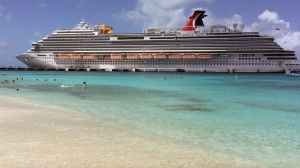 In June, 2017, we took an 8 day cruise out of Miami on Carnival's largest ship, Carnival Vista. Our itinerary was set for Miami – Grand Turk – La Romana – Curacao – Aruba – Miami. Unfortunately due to a passing storm our port visit to Curcao was cancelled so we had an extra sea day. The places we did visit along with the ship were documented by JetFlix TV's Henry Tenby as presented below.
We were domiciled in alcove balcony room 2373 which was perfect for us. It was fairly low to the ocean which we liked as it minimized movement thus lessening chances for sea sickness.
We ate most of our meals in the dining room which we thoroughly enjoyed, and also visited the a la carte (extra pay) sushi bar and seafood shack on several occasions and both were superb quality and value. The seafood shack served up boiled jumbo prawns for $10 a pound, which were delicious and a good feed for in between meal cravings. And the sushi bar came in very handy for late night meal cravings. The monster chocolate mouse cakes at the coffee shop were unbelievable .. as you'll see in the videos below. I could only manage to destroy one of these beasts (well .. not exactly ..) on this cruise.
On a few occasions we visited the casino and art auction which were pretty standard Carnival offerings. The one organized tour we did on this cruise was the Catalina Island beach break from La Romana and it was pure magic. Definitely highly recommended if you like relaxing under a palm on a beautiful tropic island beach. Money well spent!
Music played a huge part of this cruise. The cruise Director, Chris the Flying Scotsman is a great theatrical rock singer and does a wide range of music from Scottish classics of various sort, to AC-DC, Journey, and many other current day favourites. Every night there was a musical celebration or show of some sort, and we loved all the live musical shows that we were able to see during our time on board.
All in all we enjoyed the cruise, despite missing out on Curacao. We had hoped the extra day could have been spent in port at Aruba instead of hanging around the ocean doing nothing. But I guess they have certain times and slots at ports etc, but we did not notice other ships hanging around the area. That was our only complaint as we thought the Captain and Carnival management could have made a greater effort to recover from cancelling our visit to Curacao. Even a free drink would have gone a long way and been a nice gesture. Oh well. On with the videos!