ANA FESTA shop Haneda airport lots of Pacmins: FULL REPORT lots of pics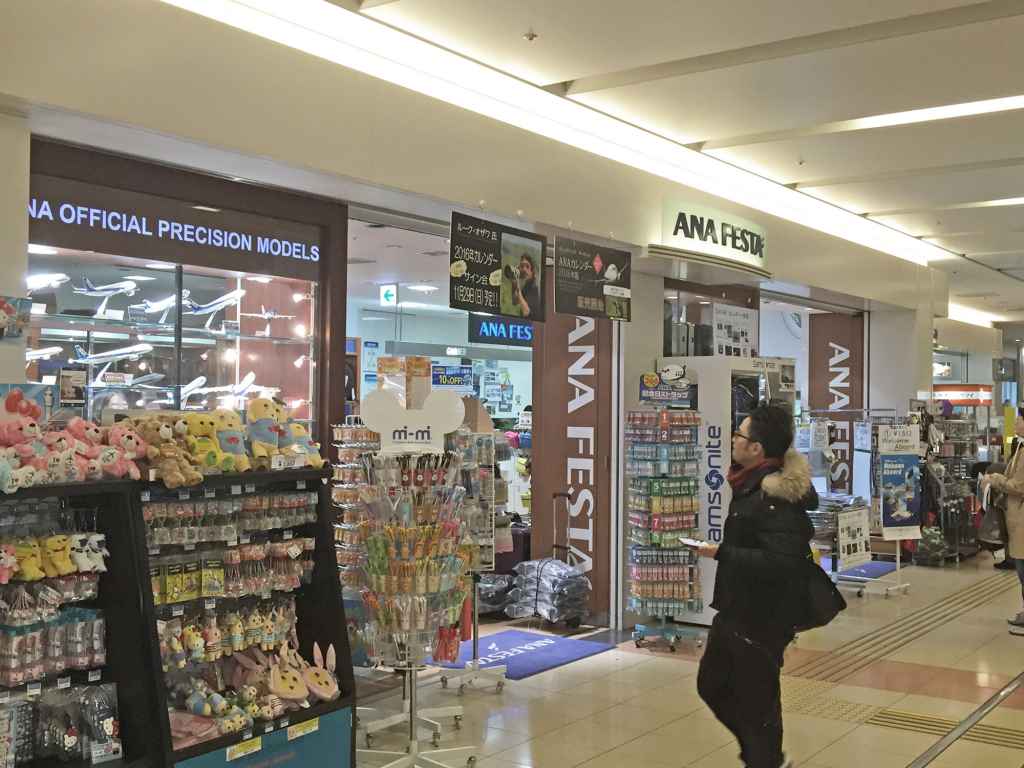 DATE OF VISIT: November 27, 2015
Hearty congratulations are offered to ANA for their ANA FESTA shop at Tonkyo Haneda airport Terminal 2. The shop is easily found on the lower arrivals floor of the terminal.
Before I get to the review I need to point out one interesting fact. The Japanese as a people are fascinated with miniaturization. And always have been. The making and admiration of models has been in their culture for a long time. Japanese model makers have long been obsessed with perfecting the details of their models and this is evidenced in the large community of train model fans in Japan, as well is in the aircraft model space too. And this obsession is also evidenced as soon as you step into the ANA FESTA shop.
Unlike the JAL Shop at Haneda Terminal 1, which was a great disappointment, the ANA FESTA shop is a gold mine for airline fans and serious aircraft model collectors. ANA has gone to great efforts to stock their store with ANA branded goods that are unique, which you will not find anywhere else.
Like the JAL Shop, the ANA FESTA shop is a store with a store. But it takes up about half the available floor space and is nothing short of an Aladdin's Cave. There is so many nice ANA things to admire and look at that you could spend quite some time at the store. Even with the sun shining outside, and a sense of urgency to get up to the observation decks for plane spotting, one feels compelled to keep on looking around the shop just incase you missed something on earlier viewings.
There is plenty of ANA branded clothing, calendars, caps, stationary, luggage, etc. But I was most impressed with the set of historical JAL airliner postcards, covering aircraft from the early 1960s to current day. What other airline on the planet would go to the effort to produce a large series of aircraft postcards of their old timer aircraft? Kudos to ANA!!
For the 1/200 diecast airline model collector, there cannot be any other place on earth where you will find a larger selection of ANA diecast models. The store even offers some very nice non-ANA diecast model planes. The 1/144 scale JSDF P-3 Orion diecast model was very impressive. I had not seen this model anywhere else.
The 1/72 high detail plastic ANA YS-11A models are absolutely fabulous. They are available in several different variations priced around $200 and I have not seen them available anywhere in North America or Europe. So they must be custom made specifically for the Japanese home market.
The main attraction has to be the very large selection of custom produced Pacmin models. You cannot buy these models directly from Pacmin, and again, these are hundred percent exclusive for the Japanese home market. They may be available at other specialist aviation shops in Japan, but this was the first time I have seen them.
As they are imported into Japan from the US, one has to factor in the cost of the models to start with, plus shipping cost, import duties and taxes. The result being the Pacmin models carry a very high price tag. But exclusivity never comes cheap.
The star attraction in the Pacmin department was the 1/100 scale R2-D2 Star Wars Boeing 787-9 model. What an amazing work of art. No doubt this model was produced in very limited numbers, and the high level of detail must contribute to the stratospheric price circa $2400. Almost equally impressive were the 1/100 scale Pacmin models of the standard ANA livery 787-9 and the 777-9X in the Boeing demonstrator livery.
I was shocked to see the Pacmin ANA Airbus 320 models carrying such exorbitant prices tags priced well in excess of $1000 US. The 1/144 scale Pacmin ANA 747-400 LAST is a model of the very last ANA 747 that was in service with the airline, JA8961. The Pacmin 1/144 ANA 787 model is also very lovely, but both models carry $500 price tags. Two of my favourite Pacmin models would be the 1/72 Embraer RJ model and the 1/100 Dash-8-400 model. Let's put it this way: you could easily spend $3000 to $40000 in this shop if money was no object.
Compared to the JAL Shop, which was a ghost town, the ANA FESTA shop had a lot more people window shopping and looking inside at all the neat stuff on offer. So many people were taking lots of photos of the Pacmin models with their cell phones, so I felt at ease when taking the photos that appear below. As I too took them with my cell phone, and there was nobody running around saying "no photos please".
I very much look forward to my next visit to the ANA FESTA shop and highly recommend that all airline fans and serious aircraft model collectors make the effort to visit this shop when next at Haneda airport. You'll be pleased you did.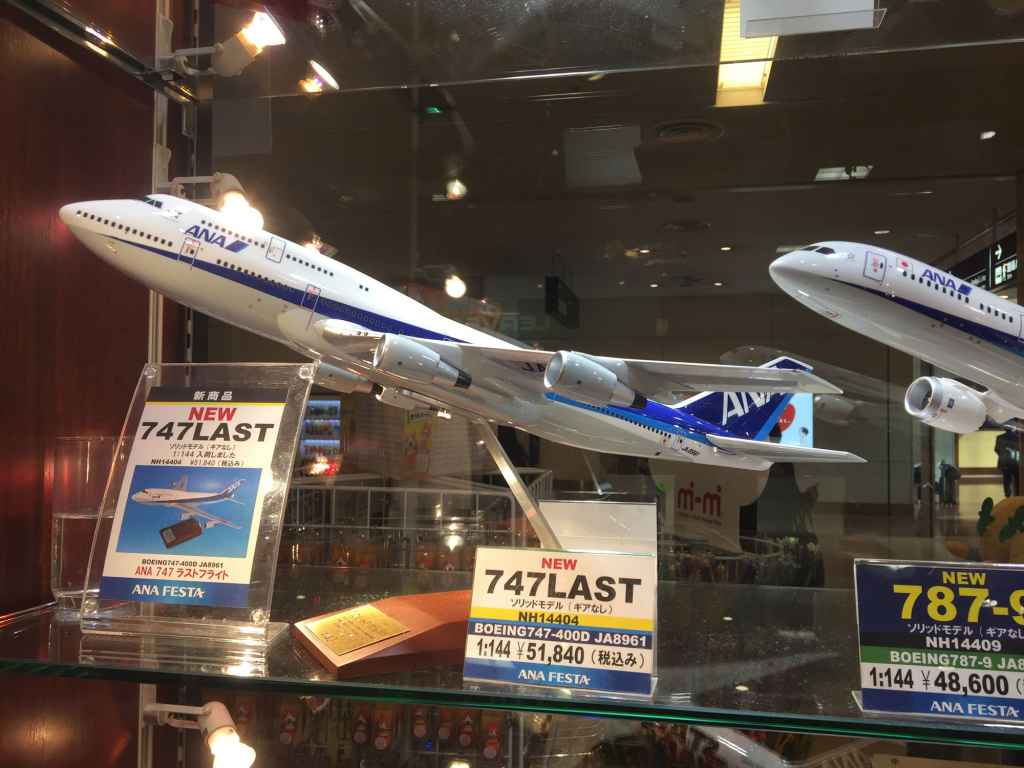 Summary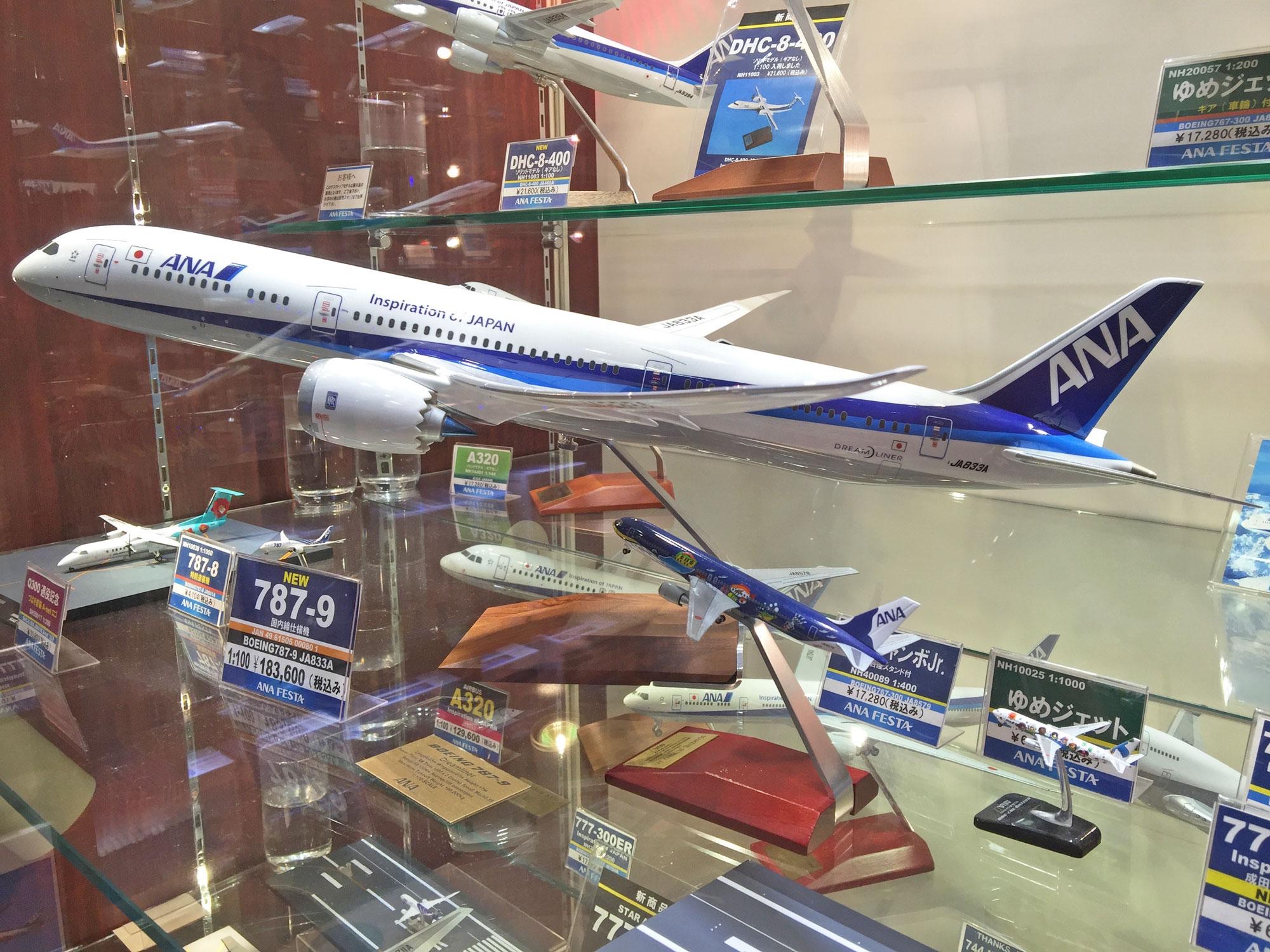 Article Name
ANA FESTA shop Haneda airport lots of Pacmins: FULL REPORT lots of pics
Description
The ANA FESTA shop is a store with a store. It takes up about half the available floor space and is nothing short of an Aladdin's Cave. There is so many nice ANA models, branded clothing, calendars, postcards and a lot more to admire and look at, that you could spend quite some time at the store.
Author
Publisher Name
Publisher Logo