Air-to-Air: Ultimate Airline Photography Photo Book
By Henry Tenby, published by AirlineFan.com Press
200 PAGES ALL COLOUR BOOK
AIR-TO-AIR photography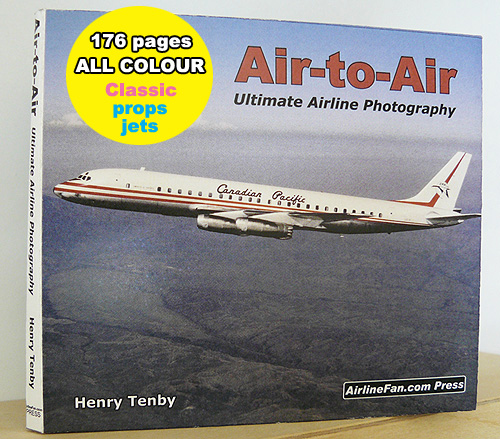 Order this book now before it is too late!
View the sample photos below

Click here to watch the video promo

Like no other book ever printed in the history of commercial aviation, this unique and beautifully presented all colour volume features some 200 eyeball-popping air-to-air images of classic propliners and classic jetliners taken aloft by the great air-to-air photo masters of the late 20th century, including Stephen Piercey, Paul Duffy, Bob Shane, Ron Kosys, Chris Mak, Henry Tenby, Chuck Stewart Jr. and many others.
This book is loaded with air-to-air beauties of the following aircraft: Boeing 707, Boeing 727, Boeing 720, Boeing 737, Boeing 747 Classic, 747SP, DC-3, DC-4, DC-6, DC-7, DC-8, DC-9, DC-10, Britt-Norman Islander, De Havilland Canada DHC-2 Beaver, DHC-3 Otter, DHC-6 Twin Otter, Beech 18, Beech 99, Fokker F-27, F-28, F-50, Grumman Goose, Lockheed Hercules, PBY-5A Catalina, Convair CV-580, CV-640, Curtiss C-46, Hawker Siddeley HS-748, Lockheed Electra, Lockheed Constellation, Vickers Viscount, Vickers Vanguard, Martin 404, De Havilland Comet, Sud Aviation Se-210 Caravelle, Junkers Ju-52, Bristol Freighter, ATL98 Carvair, Dassault Mercure, Bristol Britannia, Armstrong Whitworth Argosy, De Havilland Trident, NAMC YS-11, Canadair CL-44, KC-97, Antonov An-2, An-26, An-124, Ilyushin IL-18, IL-14, Shorts Belfast, B-17G, C-117, and Shorts Sunderland Flying Boats with images taken in the 60s, 70s, 80s and 90s.
Customer and Reviewer Comments:
Besides the mainline equipment from the Sixties through the Nineties, (this book features) classics including the Curtiss C-46 Commando, Douglas DC-3, DC-4, DC-6, DC-7, Lockheed Constellation and Electra plus the L-100 Hercules, Martin 404, Convair-Liner (in various forms), Bristol Britannia, Vickers Viscount and Vanguard, and a variety of 'bush' types. Captions are extensive and informative, often including details of the photography session such as location and crew names, chase plane, as well as revealing how the shot was captured. For a very modest price, here is a treasure trove of excellent and unusual colour photography of airliners from around the world.
John Wegg, Editor, Airways, A Global Review of Commercial Flight, Sandpoint, ID, USA
Henry Tenby has put together a book far greater than the limitations of its compact landscape format would imply. It provides 171 air-to-air studies of post-war classic propliners and jet airliners with fascinating captions relating why, how, and where the image was taken. Read assiduously, the content is worthy of close scrutiny wherein lie many lessons for erstwhile aspirants to the magic arts of real photography.
David Baker, Editor, Aviation News Magazine, St Leonards-on-Sea, East Sussex, UK
Picked up a nice little book today at the Aviation MegaStore near Amsterdam IAP, "Air-to-Air" by Henry Tenby. The book opens with a dedication to Stephen Piercey, a good start, and a clue for the content: a massive amount of propliners and OldJets. Besides loads of photographs, the captions are very informative and bring back memories to airlines and thier hardware plus we get to know some ace air-to-air photographers as well. With a modest price, you cannot go wrong with this one in my opinion.
Just to make sure, as a disclaimer, I have no interest in the book nor the author.
Ruud Leeuw, www.RuudLeeuw.com website
The book is a lovely little production: good photos, great captions: informative yet no-nonsense, well-designed binding and cover and an accessible price point. Very well-done!
Brenda Roberts, Librarian, Ottawa Public Library
Excellent photos and information. Could't get any better of an air-air book. Great Piercey salute!
David Hartman, Sharpsburg, GA, USA
Photos in the book cover a wide range of aircraft types with something to suit all tastes from the DHC Beavers and Otters through the classic piston and turboprop airliners to the modern jetliner. One is taken up close and personal with floatplanes, Catalina amphibians and DC3's over Canadian lakes and tundra,then one is flown alongside the big propliners as they pose for the photographers chase-plane often against a background of dramatic scenery. There is a good Irish connection with a nice selection from the camera of the late Paul Duffy including a Cuban Ilyushin 18 and a couple of Antonov An26s. Also from Paul's collection some of those well remembered Aer Turas aircraft including a lovely shot of CL44 EI-BRP as it descends on finals to RW24 at Dublin.
Malcolm Nason, Irish Air Letter, Ireland
I have just received your Air to air book. Some great pictures in there. What I particularly like about it is the same as you mentioned is that it also tells the story of how the picture was taken, how it was arranged and what the chase plane was. Well done.
Ian Haskell, Hampshire, UK
Book arrived today and is excellent. It should be an annual publication. I will recommend it to some friends in Seattle and Toulouse. Good to see some of Paul Duffy's work in print, and Tony Hickey's.
Antoin Daltun, Baile Atha Cliath, Ireland
It must be nearly Christmas, as a lovely surprised just dropped through the mail in the form of your Air-to-air book. Just lovely, with many shots I recognise there by many people I know.
Adrian Balch, Swindon, UK
BOOK FEATURES:
Semi hard cover
lay-flat Euro bound
176 pages
All colour plate sized images
Superb quality image scans
310 gsm artcard folded & glued cover
printed on 128 gsm high gloss paper
Book dimensions: 17 X 20 cm
CLICK HERE TO Order this book Now!
Summary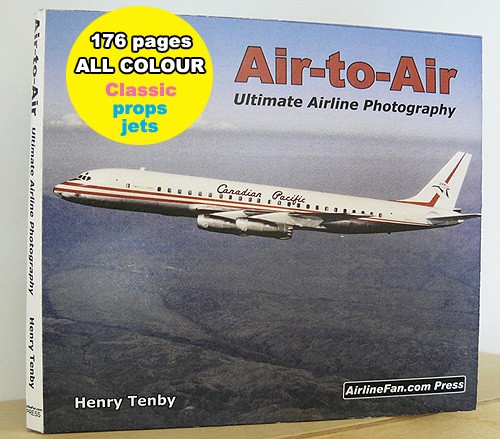 Article Name
Air-to-Air: Ultimate Airline Photography Photo Book
Description
This book is loaded with air-to-air beauties of the following aircraft: Boeing 707, Boeing 727, Boeing 720, Boeing 737, Boeing 747 Classic, 747SP, DC-3, DC-4, DC-6, DC-7, DC-8, DC-9, DC-10, Britt-Norman Islander, De Havilland Canada DHC-2 Beaver, DHC-3 Otter, DHC-6 Twin Otter, and many more classic airliners.
Author
Publisher Name
Publisher Logo